Learn About the Benefits of Having a Bathroom Remodel Done at Your Edwardsville, IL, Home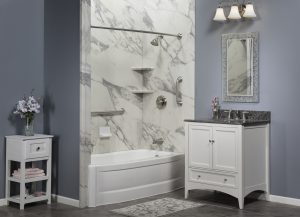 When homeowners in Edwardsville, Illinois, are in need of a bathroom remodel, they turn to the experts at Jacob Sunrooms, Exteriors & Baths. We offer products to improve the style and functionality of your bathroom, so no matter if your current bathroom is outdated, cramped, or damaged, we can help to transform it into a modern space that will meet your aesthetic and functional needs.
Whether you are in need of a new shower, bathtub, walk-in tub, or shower or tub surround, Jacob has industry-leading bathroom remodel products that are sure to exceed your expectations. And, all of our products have numerous benefits that you will enjoy for years to come. For example, a bathroom remodel from Jacob can help to make your bathroom more:
Beautiful – We offer products that have tremendous aesthetic value. With so many styles, colors, and patterns to choose from for your products, you bathroom is sure to become one of your favorite rooms in your home.
Durable – Our bathroom remodel products are crafted from strong acrylic materials that resist cracking, chipping, fading, and peeling, so your bathroom will continue to look like new for years to come.
Clean – Our acrylic construction is also infused with SilverShield™ micro-agents that prevent mold and mildew from growing, so your bathroom will be much easier to clean.
Functional – We offer optional accessories such as soap dishes and grab bars to ensure your bathroom has everything you need to make bathing more convenient in your Edwardsville, IL, home.
Furthermore, because every remodel we do is carried out by factory-trained and -certified technicians, you can relax knowing your home is in good hands. We even hold an A+ rating with the Better Business Bureau thanks to the top-notch service we provide, so you can feel comfortable putting your trust in our outstanding reputation.
If you are interested in having Jacob Sunrooms, Exteriors & Baths provide a bathroom remodel for your home in Edwardsville, IL, or a surrounding area, contact us today.