Jacob Sunrooms, Exteriors & Baths Can Provide a Bathroom Remodel for Your Home in Sunset Hills, MO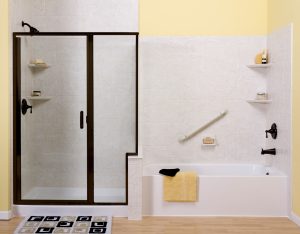 If a bathroom in your Sunset Hills, MO, home is cramped, damaged, or outdated, a bathroom remodel from Jacob Sunrooms, Exteriors & Baths can help breathe new life into this highly used space. Since 1977, our team of factory-trained and -certified professionals has helped numerous homeowners create the homes of their dreams by providing industry-leading products and services, and our bathroom remodel services are no exception.
At Jacob, we offer a number of bathroom remodeling products to meet the needs of virtually every homeowner in Sunset Hills, MO, and beyond. Some examples of the services we provide include:
Bathtub installation – Our tubs can be customized with a number of accessories to make your bathing experience more enjoyable.
Shower installation – We have low-threshold and no-threshold entry options available to those who require it.
Tub to shower conversions – We can turn your old tub into a gorgeous new shower for those who prefer this bathing option.
Walk in tub installation – These tubs are available in numerous sizes and styles, so it will be easy to find a product to fit your bathroom's layout.
Additionally, homeowners looking for a more affordable bathroom remodel can choose one of our top-quality tub or shower surrounds. These durable products can make any tub or shower look brand new and can be completed in minimal time, making it a virtually hassle-free way to upgrade your bathroom. We also offer convenient financing options to those who qualify, making all of our bathroom remodel products and services more affordable than ever.
Contact Jacob Sunrooms, Exteriors & Baths today to learn more about the ways in which a bathroom remodel can improve the style and functionality of a bathroom in your Sunset Hills, MO, home.