Honest and Reliable Bathroom Remodelers Serving Homeowners in Fenton, MO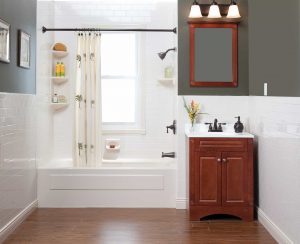 Even the most experienced DIY-ers tend to balk at the thought of remodeling a bathroom. Home plumbing can be notoriously complex. This is why you should contact an experienced team of bathroom remodelers to help you handle your next bathroom project. At Jacob Sunrooms, Exteriors & Baths, we've helped homeowners like you update their bathrooms since 1977. During this time, we've provided the residents of Fenton, Missouri with exceptional customer service and craftsmanship, creating beautiful bathrooms that can be enjoyed for years to come.
Our Commitment
Too many professional bathroom remodelers fail to listen to their clients, providing them with the same cookie-cutter bathrooms they provided for other homeowners. This approach fails to take a homeowners' needs into account and leaves them frustrated and dealing with a dysfunctional space or an extended project timeline.
When we first opened our doors in 1977, it was with the desire to do things differently. At Jacob Sunrooms, Exteriors & Baths, we provide you with honest, realistic promises and then deliver on those promises. We commit to using crews of full-time, factory-trained employees in order to protect you from the unpredictable skillsets possessed by subcontractors. We are the place where quality counts, and our client's bathrooms are all the better for it.
When you hire us as bathroom remodelers, we promise to provide you with this same level of customer service. Would you like to learn more? Contact Jacob Sunrooms, Exteriors & Baths today or visit our showroom, just a short drive from Fenton, MO.