Add Energy-Efficient Windows to Your Home in Oakville, MO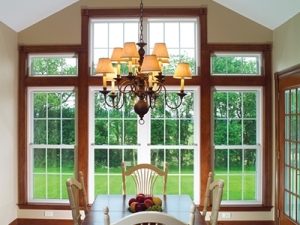 Missouri finds itself in a unique geographical location, where the climate changes from season to season can be quite significant. This means summers that are increasingly hot, and winters that can be downright frigid, along with every temperature and weather pattern in between. For local homeowners this means your home's HVAC system may work overtime to keep you comfortable, especially if your windows aren't energy efficient. So, what can you do to reduce the strain on your air conditioner/heater and improve the overall performance of your home? Turn to the professionals at Jacob Sunrooms, Exteriors & Baths of course! We've provided Oakville, Missouri, homeowners with exceptional window replacement services since 1977, and want to upgrade your home with energy-efficient windows!
What Makes Our Windows Energy Efficient?
Windows serve no more important purpose than helping to maintain comfortable temperatures inside your home. When you invest in energy-efficient windows, you'll find that it's far easier to enjoy consistent temperatures indoors, since less heat is transferred through the windows. Our premium vinyl-framed windows maximize energy efficiency thanks to their:
High-quality vinyl resin frames, which drastically reduces thermal conductivity, helping to maintain consistent indoor temperatures
Reinforced corner welding that blocks outdoor air from entering your home
Sashes and master frames that feature high-density polystyrene insulation in their construction, making them a superior thermal barrier
Optional Low-E glass, which keeps your home warmer in the winter and cooler in the summer and reduces damaging UV light penetration
The Perfect Windows for Your Home
The house windows we install are incredibly durable, as their vinyl frames won't look worn or damaged after a few years of exposure to the elements. Furthermore, you can be sure that your energy-efficient windows will suit your aesthetic preferences perfectly. In addition to offering many styles of windows, we also have a plethora of frame color and glass options to choose from. Whether you are looking for clean, white frames or those that mimic the look of wood, we are sure to have options to suit you.
The Importance of Quality Installation
At Jacob Sunrooms, Exteriors & Baths, we know that product quality is only half the equation of improving home energy efficiency. Proper installation is equally as important, since even the most energy-efficient windows will fail to keep you comfortable if not properly installed. When you partner with us, your new windows will be installed by highly trained and experienced professionals who will make your satisfaction their top priority. Our commitment to customer service is precisely what has allowed us to maintain an A+ rating with the Better Business Bureau. If you'd like to experience the difference energy-efficient windows can make for your Oakville, MO, home, give us a call today!