Gutter Guards from Jacob Will Protect the Gutters of your St. Louis, MO, Home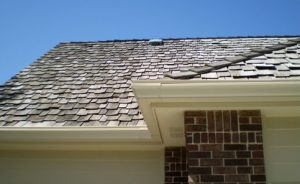 For gutter guards that will protect the gutters on your home for years to come, homeowners in St. Louis, Missouri, and throughout the entire Metro East area can turn to Jacob Sunrooms, Exteriors & Baths. By keeping leaves, insects, roof grit, and other debris from entering your gutters, our gutter guards can help to prevent potentially costly damage to your home's foundation, soffit, and fascia that can occur when clogged gutters cause water to overflow instead of being directed away from your home.
Manufactured by LeaFree™, the gutter guards we install boast numerous impressive features, including that they are:
Made of .024-gague aluminum for exceptional strength
Installed on the lip of the gutters using stainless steel screws, so they won't cause any damage to your home's roof or fascia
Capable of handling 14 inches of rain per hour, so you can trust they can will function efficiently no matter how hard it is raining
Available in 15 colors in addition to copper, so we are sure to have a product that will complement your home's style
Perhaps best of all, having the experts at Jacob install gutter guards on your St. Louis, MO, home means you will no longer be required to risk your safety to balance on a ladder and clean your gutters out by hand. To keep your gutter covers working seamlessly, simply brush them off or spray them with a high-pressure nozzle on your garden hose if you ever notice a buildup of debris on top of them.
To learn more about the benefits of having our durable gutter guards installed on your St. Louis, MO, home, contact Jacob Sunrooms, Exteriors & Baths today – the place Where Quality Counts … Since 1977.