Protect Your Fenton, MO, Home With Seamless Gutters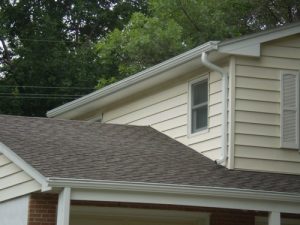 While Fenton, Missouri, might not be the wettest city in the United States, residents still experience their fair share of early morning drizzles or late-afternoon downpours. So, before it starts to rain again, you want to know that your home is protected. At Jacob Sunrooms, Exteriors & Baths, we install high-quality seamless gutters which resist both leaks and clogs as they channel large amounts of rainwater away from your home. During a gutter replacement, we'll make sure that your new gutters are installed precisely so that they will protect your home from water damage for years to come.
Superior Defense
When it comes to a gutter replacement, you want to make sure to invest in high-caliber products. After all, you rely on your gutters to protect your home from water damage. That's why our seamless gutters are an obvious choice—they come with a variety of benefits:
Perfect fit – Since these gutters are made to the exact dimensions of your home, they fit perfectly beneath your eaves and look beautiful.
Low maintenance – In gutters, debris tends to accumulate in the seams and form clogs. So, seamless gutters naturally develop fewer clogs.
Increased durability – Since gutter seams are one of the first places where leaks develop, seamless gutters are less prone to separating and draining water.
Additionally, we'll finish your gutter replacement by installing high-caliber gutter covers, providing further clog protection.
Exceptional Installation
At Jacob Sunrooms, Exteriors & Baths, we believe that any job worth doing is worth doing right. We've taken that approach since we first opened our doors in 1977, and we'll take that approach when installing your seamless gutters as well. Our commitment to providing high-caliber service has earned us numerous awards over the years, including the Better Business Bureau's Torch Award for business ethics.
Don't wait until the next rainstorm to provide your Fenton, MO, home with the protection it needs. Contact Jacob Sunrooms, Exteriors & Baths today to schedule a complimentary consultation and to learn more about our seamless gutters.