Beautiful Home Window Replacement for Affton, MO, Homeowners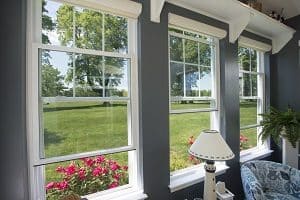 Your windows are one of the most important elements of your home. On the outside, windows form an integral part of your home's exterior façade, complementing the architecture, giving your home great curb appeal, and keeping your home protected. On the inside, they let in light to illuminate your home, and their frames can be opened to let in fresh air while giving each room a unique feel. That's why when it comes to home window replacement, you should look for a company that can help you find and expertly install the perfect windows to match your home's aesthetic and your needs as a homeowner. At Jacob Sunrooms, Exteriors & Baths, we can do just that for homeowners in and around Affton, Missouri. Our windows are the best on the market, and we offer a wide selection of styles and colors so you can find the windows that are just right for you.
Why Are Our Windows Superior?
Since windows not only add beauty to your home, but also form a critical part of its exterior perimeter, you don't want to compromise on quality. Inferior windows will fail to seal your home from the elements, so if you're considering home window replacement, you need to focus on windows that can handle the toughest weather and last for years. That's why we are proud to offer our customers the Preservation line of home windows. These windows are renowned for their quality and provide many benefits including:
Superior energy-efficiency – Our home replacement windows feature triple-pane glass with Low-E coatings and Krypton gas fills which dramatically limit heat transfer and boost your home's energy efficiency.
Durable construction – Preservation windows utilize fusion welding that reinforces the frame joints, offering increased structural durability which is ideal during Missouri's seasonal storms.
Low-maintenance requirements – Our windows' premium vinyl resin frames will look new year after year, without the need for scraping, sanding, or repainting like other windows.
Contact Us Today
If your Affton, MO, home is in need of new windows, give Jacob Sunrooms, Exteriors & Baths a call today. We've been serving the greater St. Louis area for over 40 years and in that time, we've garnered praise from countless customers. Contact us today to learn more about our home window replacement services.