We Install Some of the Best Replacement Windows in Fenton, MO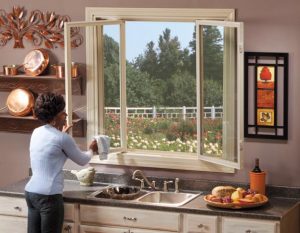 Your windows play an important role in establishing the atmosphere of your home. From the outside, they lend your façade character and glamour. From the inside, they flood your rooms with light and expand the scope of your space with wide-open views. When it comes time to purchase replacement windows for your Fenton, Missouri, home, then, you need to find exceptional products and a reliable contractor. Let the window installation experts at Jacob Sunrooms, Exteriors & Baths help. We install exquisite vinyl windows that provide homeowners like you with hard-wearing beauty and a lifetime of exceptional performance.
Quality by Any Evaluation
Finding the best replacement windows for your home can feel like a daunting task, especially when every product reviewer uses a different metric. In order to find the best possible vinyl windows for your home, our window installation team uses products that perform well in a wide variety of categories. These include:
Style
We know that finding the perfect vinyl windows for your home requires giving you plenty of customization options. You get to decide how your windows will operate, since we install double-hung, sliding, casement, awning, bay, bow, box, and garden windows. You can also choose from a wide variety of finishes, including traditional whites and beiges, charming reds and greens, and rich wood tones. These windows aren't just stylish—they reflect your unique tastes.
Durability
Made from rugged vinyl resin, these replacement windows won't rot, blister, swell, corrode, or pit after a few years of use. They also benefit from maximum-strength welding and fiberglass sash reinforcements, which prevent them from flexing and collapsing under the pressure of heavy winds. You can count on these vinyl windows to maintain their beauty for years to come, no matter what Mother Nature throws at them.
Ease of Maintenance
Unlike with their wooden counterparts, you'll never need to scrape, repaint, or refinish these replacement windows to keep them looking their best. Simply wipe them down with a little soap and water to restore their bright and beautiful appearance. This ease of maintenance carries over to the glass as well, which is chemically treated to ensure a smoother-than-smooth surface. Your windows will repel dirt and dust, making cleaning a breeze.
Energy Efficiency
The same maximum-strength welding and fiberglass reinforcements that prevent these vinyl windows from collapsing in the wind also lend them energy efficiency. These windows possess low thermal conductivity and offer exceptional resistance to drafts, which keeps the outside temperatures from transferring into your home. Optional energy-efficient glass packages only increase this feature, which may even result in lower monthly energy bills.
Is a Window Replacement Worth It?
Our replacement windows come with a wide variety of benefits, but at this point you may find yourself asking: Is this project really worth it? Of course, if the windows in your home are in a state of disrepair—riddled with wood rot or suffering from recent storm damage—the benefits of a window installation are immediately apparent. However, older windows featuring warped frames or stubborn sashes that won't quite open or close may also prove to be good candidates for a replacement.
Many homeowners find high-caliber replacement windows a worthwhile investment due to the way they increase:
Functionality – Not only should your windows open and shut smoothly, but they also ought to protect the inside of your home from leaking precipitation or uncomfortable drafts. During a window installation, our competent installers will make sure that your replacement windows keep your home safe from the elements.
Home value – Should you decide to sell your house, a fresh set of windows will help boost the listing price. In fact, most homeowners recoup somewhere between 70% and 80% of their investment after a window installation. After all, homebuyers are more likely to purchase a residence requiring minimal upgrades.
Energy savings – Old, drafty, single-pane windows probably aren't providing your living areas with much insulation. Our energy-efficient replacement windows, on the other hand, help keep you comfortable indoors without making you overwork your HVAC system, which may make a noticeable difference on those monthly bills.
With benefits like these, it's easy to see why a window installation project will add value to your home. And, you can rest easy knowing that you'll be partnering with the area's experts.
Purchasing Quality With Top-Notch Installation Services
Of course, in order to maximize the benefits that come with these replacement windows, you need a reliable contractor. Since 1977, Jacob Sunrooms, Exteriors & Baths has been the place where quality counts. Our factory-trained and -certified installers pursue excellence with every project they undertake. They ensure that your vinyl windows sit snugly in their frames, preventing any air or water leakage that might occur due to a hasty, slap-shod installation. This pursuit of quality service allows us to maintain an A+ rating with the Better Business Bureau and has even earned us its prestigious Torch Award for extraordinary ethics.
Your home deserves the best replacement windows available. Contact Jacob Sunrooms, Exteriors & Baths today to learn more about our vinyl windows or visit our showroom—just a short drive from Fenton, MO—to see our products for yourself. Be sure to ask about our convenient financing options, available to qualifying customers.