Low-Maintenance Shower Enclosures Expertly Installed in Lemay, MO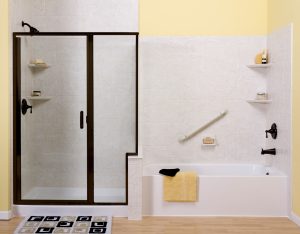 Shower enclosures that are old, worn, and hard to clean simply can't compete with the stunning bathroom products offered by Jacob Sunrooms, Exteriors & Baths. Lemay, Missouri, homeowners have been trusting our highly skilled team to upgrade their bathrooms since 1977, and to this day, our shower enclosures remain one of the easiest, most affordable, and most popular ways to do just that.
Lemay, MO, homeowners chose Jacob to provide them with new showers time and again because our products are unmatched in quality. Our shower enclosures are constructed from non-porous acrylic that is:
Infused with SIlverShield™ micro-agents that allows your shower to resist the growth of mold and mildew
Is easy to clean
Won't chip, peel, or crack after years of use
Will continue to looks its best day after day, with minimal effort from you
Furthermore, your new shower can be customized to meet your every need. We offer a wide range of accessories you can choose to add to your shower to ensure it functions exactly as you need it to. Some of the accessories we offer include grab bars, in-shower seating, foot pedestals, soap dishes, and more. We even have low-threshold entry and non-slip flooring options for those looking for a safer way to bathe, such as an elderly family member or someone with limited mobility.
To learn how to have Jacob Sunrooms, Exteriors & Baths install one of our exceptional shower enclosures in your Lemay, MO, home, contact us today. Affordable monthly payment options are available to those who qualify.