Let Trusted Professionals Perform a Shower Replacement in Your Fenton, MO, Home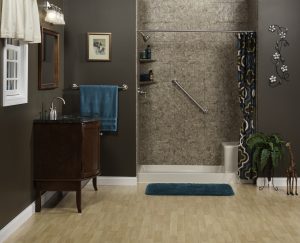 When was the last time you experienced true relaxation when stepping into your shower? Can you think of the last time you looked at your bathing enclosure and marveled at its luxuriousness? If you can't think of an answer to either of these questions—or you don't like the answer you have—then it's high time you invest in a shower replacement for your Fenton, Missouri, home. This type of project is perfect for those who know they need to update their space but aren't quite ready to commit to the high cost and drawn-out timeline of your typical bathroom remodel. And when you partner with Jacob Sunrooms, Exteriors & Baths for your project, we can make things go even smoother for you. Our team completes most shower replacements in as little as one day, which means that you and your family can skip the hassle of other home renovation projects and get straight to enjoying your updated bathroom.
Customized to Complement Your Décor
We believe that a shower replacement ought to leave you with a bathing enclosure that perfectly suits your style and serves to enhance your space. After all, your shower is one of the most visible elements of your bathroom. That's why we offer plenty of customization options when we remodel your bathroom shower, allowing you to personalize your new enclosure to your heart's content. We have a full range of attractive patterns and colors to choose from for your surrounds, with options including white, grey, beige, and topaz, as well as those made to replicate the look of granite, tile, and stone. No matter your aesthetic preferences, we are sure to have an option to suit you.
We also offer plenty of options for accessories to ensure your new shower is equipped with everything you need. Some of the features you can add to your shower include:
Soap dishes
Grab bars
Foot pedestals
Low barrier and barrier-free entry options
With choices like this, designing your perfect shower couldn't be easier. You're practically guaranteed an enclosure you'll love.
Designed to Endure
Of course, even the most attractive shower isn't worth much if it falls apart in a couple years. We understand the importance of a replacement shower that can stand up to daily wear-and-tear for decades to come. That's why we've partnered with industry-leading bathroom remodel manufacturer BathWraps, whose acrylic shower enclosures are known both for their beauty and their durability. Thanks to acrylic's naturally nonporous surfaces and the secure multilayer construction, your replacement shower will resist:
Scratching, chipping, and cracking
Staining and fading
Mold and mildew growth
Additionally, innovative Silver Shield® anti-microbial technology integrated directly into the acrylic dramatically reduces bacteria growth. Not only does this keep you safe, but it also makes your shower easy to clean. And the best part? Our replacement showers are guaranteed for as long as you own your home.
Bathroom Remodel Service You Can Count On
When you choose Jacob Sunrooms, Exteriors & Baths for your shower replacement, you'll enjoy truly top-tier service. Since 1977, we have established ourselves as the bathroom contractor for whom quality counts. Our team goes above and beyond in order to ensure that your new shower both looks stunning and functions beautifully. Our design team will take the time to discuss your space with you and gain a thorough understanding of how you use your shower in order to ensure that we're building the enclosure you want, not just the enclosure we think you want. Our factory-trained and -certified installers, on the other hand, will make sure your shower installation is perfectly executed, leaving you with a pristine and watertight enclosure in as little as one day. We're so confident in our bathroom remodels that we even stand behind them with a five-year labor warranty, which is more than most competitors will offer.
To learn more about the ways a new shower from Jacob Sunrooms, Exteriors & Baths can update a bathroom in your Fenton, MO, home, contact us today. We will be glad to answer any questions you may have as well as go over the shower replacement process with you in detail.