Does a Sunroom Add Value to Your Fenton, MO, House?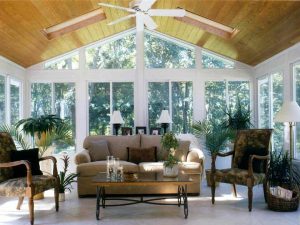 A sunroom provides a place where you can gather with loved ones for conversations and celebrations, drenched in sunlight and surrounded by views of lush greenery. It also provides a quiet retreat, where the beauty of the outdoors can refresh you while glass panes keep bugs and storms from disturbing your tranquility. Adding a sunroom to your Fenton, Missouri, home isn't a small investment, however. Before hiring a contractor for the project, you might find yourself asking: does a sunroom add value to my house?
You will be happy to learn that a sunroom addition provides more than just personal enjoyment. Indeed, homes with sunrooms often possess higher market values for a number of reasons.
Sunrooms Increase Square Footage
In certain areas, a sunroom can add value to your house by providing it with additional square footage that you can use for relaxing or entertaining. When considering whether to add the sunroom's square footage to a home's total, an appraiser will consider whether the addition uses the same cooling and heating system as the rest of the house. An appraiser might also examine whether the sunroom blends in with the home's existing profile.
Sunrooms Are Amenities
Even if your sunroom doesn't count towards your home's total square footage, potential buyers will consider it to be an upscale amenity, like a pool. After all, your sunroom can provide space for exercise equipment, a green room, an artist's studio, or comfy furniture for relaxing. And, unlike a pool, a sunroom doesn't require consistent maintenance, which makes this amenity appealing to every home buyer.
Since 1977, Jacob Sunrooms, Exteriors & Baths has provided homeowners with beautiful, well-constructed sunrooms that add value to their houses. Whether you're looking for a space to entertain, pursue your hobbies, or simply relax, we can create the perfect home addition for you.
Would you like to learn more? Contact Jacob Sunrooms, Exteriors & Baths today or visit our showroom, just a short drive from Fenton, MO.