Ideas for Decorating Your New Sunroom Addition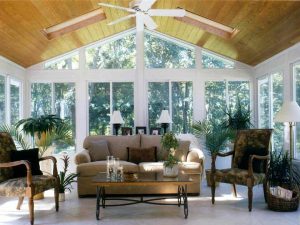 Looking for ideas for your sunroom addition? Maybe you recently had a sunroom addition installed on your property and aren't sure how best to use this gorgeous space, with its walls of windows that offer natural light and provide access to sweeping views. Or maybe you're thinking about a sunroom addition project but want some ideas on how to use the space first. If you want to turn this new or future home addition into your favorite room in the house, read on for stylish and comfortable sunroom decorating ideas.
A Comfy Retreat
This sunroom idea is perfect for the person who enjoys dozing off in the warm sunshine or curling up with a good book. Arrange two or three comfortable, overstuffed chairs in your sunroom addition to create a cozy seating nook. Limiting the pieces of furniture keeps the space light and airy while still providing you with a comfy space to relax. Incorporating fade-resistant pillows and blankets in your sunroom décor might also be a good idea, as these soft, dreamy elements can help you relax in your space.
An Attractive Gathering Space
Alternatively, you can turn your sunroom addition into a vibrant area for entertaining guests. With this sunroom idea, you may want to cluster narrow-profiled chairs and loveseats into seating areas. In addition to not cluttering up your space, the simple profile of these furnishings allows you and your guests to focus on the surrounding views. This makes simple, narrow, or low-profiled furnishings all great ideas for a sunroom surrounded by verdant shrubbery and gently swaying trees.
A Stunning Dining Area
Many homeowners have the idea to turn their sunroom addition into a dramatic dining room as well. By placing a table and chairs in the center of your sunroom, you can give your guests the illusion of eating outdoors without having to fend off pesky flies or chase down wind-tossed napkins. As the sun goes down, your sunroom addition will only grow more beautiful when flooded with rich golden light. Additionally, this sunroom idea means you can use the space as a breakfast nook as well—the perfect spot to enjoy your morning coffee and enjoy the sunrise while you wake up.
A Way to Bring the Beauty of Nature Inside
With the plentiful natural light and expansive views of the outdoors, a sunroom addition is also an ideal space for potted plants and flowers. You can create your own personal green space with house plants that will love the natural light. For the chef in your home, growing fresh herbs that can be conveniently harvested without stepping outside is another great idea. You can finish the look with some patio furniture that gives provides you with all the benefits of the outdoors and all the comfort of being inside.
Get Started on Your Sunroom Addition
These are only a few ideas for decorating your sunroom addition, but there are so many more ways to arrange your space! Do you want to create the perfect sunroom for entertaining your friends or relaxing on a sun-filled afternoon? Contact Jacob Sunrooms, Exteriors & Baths today!