A Sunroom Addition Can Expand Your Living Space in Mehlville, MO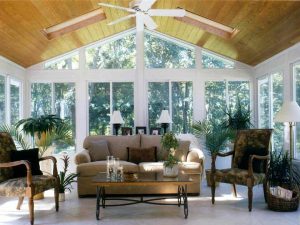 Jacob Sunrooms, Exteriors & Baths is your source for sunroom additions in Mehlville, Missouri. This popular home improvement option expands your usable living space at a fraction of the cost of a standard room addition. What's more, a sunroom is an ideal space to use for reading, growing plants, entertaining guests, and much more. No matter what your goals are for your sunroom, you can count on the professionals at Jacob Sunrooms, Exteriors & Baths for exceptional products and service.
Why Choose Us for Your Sunroom Addition
At Jacob Sunrooms, Exteriors & Baths, we offer top-of-the-line products and professional installation services. With us, you can expect:
A sunroom that's built to last – Our sunrooms feature Low-E glass, strong aluminum and vinyl construction, and welded corners that provide a durable structure that will stand the test of time and provide you with years of enjoyment.
Professional sunroom construction – Our technicians are highly trained and experienced in all sunroom construction best practices, ensuring the installation is completed to exacting detail.
Friendly service from start to finish – At Jacob Sunrooms, Exteriors & Baths, we are committed to providing our customers with exceptional service throughout the entire process. In fact, our dedication to our customers is why we've maintained an A+ rating with the Better Business Bureau for so many years.
If you'd like to have sunroom addition installed at your Mehlville, MO, home, contact Jacob Sunrooms, Exteriors & Baths today. We look forward to working with you!