Walk in Tubs Provide a Safer and More Convenient Bathing Experience for Homeowners in Fenton, MO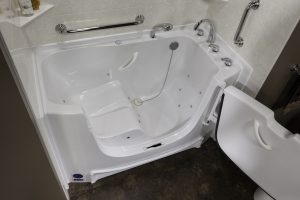 If you are living with an elderly family member in the Fenton, Missouri, area that would like to age in the comfort of their own home, one of the walk in tubs from Jacob Sunrooms, Exteriors & Baths may meet your needs. These bathtubs feature a door the swings open and tightly seals shut to prevent leaks, so bathers won't need to step over a high tub wall to enter the tub. In-tub seating also eliminates the need for the bather to sit on the tub floor to be fully immersed in the water, making bathing safer and more convenient.
Features of our walk in tubs
At Jacob, we install walk in tubs from industry-leading manufacturers. These tubs boast a number of aesthetic and practical benefits to improve your bathing experience. Some of these features include:
100 percent non-porous acrylic construction for unparalleled durability
Grab bars and slip-resistant flooring for enhanced safety
Optional therapeutic elements including hydrotherapy and chromotherapy
Many different options in terms of size and configuration, so we will surely have something that will work for your bathroom
Why Jacob?
You have many choices when it comes to walk in tubs in the Fenton area, but few can compare to Jacob Sunrooms, Exteriors & Baths. Since our founding in 1977, we have been providing local homeowners with stunning and durable products to improve their homes. Our installers are experienced and trained to provide the highest level of craftsmanship, so when you turn to us, you can have peace of mind knowing that your home is in the best of hands.
For more information on the features of our walk in tubs, contact Jacob Sunrooms, Exteriors & Baths today. We are proud to serve homeowners in Fenton and surrounding Missouri communities.